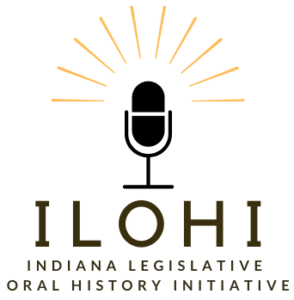 Project Description
The Indiana Legislative Oral History Initiative (ILOHI), founded by House Bill 1100 of the 120th General Assembly (2017), is an ongoing oral history project to record the history of the Indiana General Assembly from the latter part of the twentieth century to the present from those who experienced it first-hand. Building on the work of The Centennial History of the Indiana General Assembly, 1816-1978, the oral histories of Indiana state legislators will not only provide a new history of the IGA and its members but will also reveal the modern political and legislative processes that help shape our state. The ILOHI strives to provide a primary source collection that highlights the ways in which Indiana has changed over the course of the last four decades and the lawmakers' contributions towards and responses to this evolution. By sharing the history of the IGA and its influence on the people, processes, and institutions of the state, we can begin to more fully understand the role of Indiana in a national and global context.
Mission
The Indiana Legislative Oral History Initiative's mission is to conduct, transcribe, preserve, and make publicly accessible oral histories with state legislators in order to better understand Hoosier political history. 
Goals
Conduct thorough oral history interviews with state legislators detailing their lives, experiences, achievements, and struggles in the Indiana General Assembly and in Indiana politics as public servants.
Transcribe each oral history interview and make it publicly available.
Provide legislators biographical information to the Legislative Services Agency for their biographical database.
Preserve the audio file and transcript of each interview with the project archive and the Indiana State Library.
Create a user-friendly online archive and website to house and make publicly available the interviews and transcripts as well as relevant and thematic excerpts about topics of public and historical interest.
Develop curriculum and/or resources for teachers to integrate oral history materials in classrooms at different levels throughout the state.
Provide public outreach programming utilizing the oral histories.